Training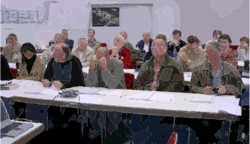 GENERAL PRODUCT TRAINING
Our Principals offers application specific training of its products to both distributors and professional organizations.  If you would like to increase its process knowledge and finishing techniques, kindly contact Pammvi Aviation for additional information.
RESTORAL TRAINING
For over 40 years, Micro-Surface has provided FAA-approved transparency repair training to mechanics and technicians from leading repair stations, FBOs, all branches of the military and British MOD and window manufacturers worldwide.
Classes are offered to both small and large groups and can be presented on site on in our facility.  The 2-hour course explains how to restore transparencies and gives helpful hints from actual on the job experiences ranging anywhere from DC-9 cabin window to fighter jet canopy repair.  Please contact us to discuss your training needs.
TRANSPARENCY CARE AND RESTORATION
FAA ID# ACE/0108/0023/2.0
I. THE NEED FOR REGULAR MAINTENANCE
II. PRE-RESTORAL PREPARATION AND CONSIDERATIONS
III. ESSENTIAL RESTORAL BASICS AND EQUIPMENT
IV. DETERMINING YOUR STARTING POINT
V. TIPS FROM THE FIELD
VI. PROCEDURES
VII. GUIDELINES FOR INNER WINDOW RESTORALS
VIII. DISTORTION REMOVAL GUIDELINES AND PROCEDURES
IX. MATERIALS AND WHY CHEAPER ISN'T BETTER
X. REDUCING THE AMOUNT OF RESTORALS YOU DO
XI. HANDS ON DEMONSTRATION
XII. QUESTION AND ANSWER SESSION
---
---
For more information about products & Services, contact :- PAMMVI AVIATION.
---
---